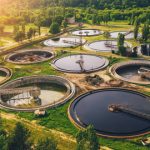 Clean and safe water is a crucial resource for not only our daily needs but also for various industries. Many industries rely on water for their production processes, such as food and beverage, pharmaceuticals, power generation, and manufacturing. However, the water used in these industries often contains impurities and contaminants that can interfere with the production process or even pose a threat to human health. That's where industrial water filtration comes in.
Understanding industrial water filtration is essential in ensuring the quality and safety of the water used in industrial processes. In this blog post, we will explore the industrial water filtration process, its significance, and different methods of filtration.
1. What is Industrial Water Filtration?
Industrial water filtration is the process of removing impurities and contaminants from water used in industrial processes. These impurities can include suspended solids, microorganisms, chemicals, heavy metals, and other pollutants. Filtration involves passing the water through various filters and media to capture and remove these impurities.
2. Significance of Industrial Water Filtration
Ensuring the quality and safety of water in industries is crucial for several reasons. First and foremost, clean water is necessary for maintaining the efficiency and effectiveness of production processes. Impurities can clog equipment, reduce productivity, and lead to increased maintenance costs. Filtration helps in preventing these issues by removing impurities and maintaining the integrity of the equipment.
Moreover, some industries, such as pharmaceuticals and food and beverage, have stringent regulations and standards regarding water quality. Industrial water filtration ensures compliance with these regulations and helps industries avoid legal consequences and damage to their reputation.
Finally, providing clean and safe water is essential for the health and well-being of employees and consumers. When water is used as a direct ingredient or comes into contact with the products, any impurities can pose a threat to human health. Industrial water filtration safeguards against this risk and ensures the final product is safe for consumption or use.
3. Methods of Industrial Water Filtration
There are several methods of industrial water filtration, each designed to target specific impurities and contaminants. Here are some commonly used methods:
Media Filtration: This method uses physical barriers, such as sand, gravel, or activated carbon, to capture suspended solids and impurities. Media filtration is effective in removing larger particles but may not be suitable for microorganisms or dissolved contaminants.
Membrane Filtration: Membrane filtration uses thin membranes with microscopic pores to physically separate impurities from water. This method is highly effective in removing suspended solids, microorganisms, and even dissolved contaminants such as salts or heavy metals.
Activated Carbon Filtration: Activated carbon filters are widely used to remove organic compounds, chlorine, and other chemicals that affect taste, odor, and color. The porous structure of activated carbon provides a large surface area for adsorption, effectively trapping these impurities.
Reverse Osmosis: Reverse osmosis is a highly efficient filtration process that uses a semipermeable membrane to remove dissolved impurities and salts from water. It is commonly used in industries that require high-purity water, such as electronics manufacturing and power generation.
4. Maintenance and Monitoring
Industrial water filtration systems require regular maintenance and monitoring to ensure their effectiveness. Filters need to be cleaned or replaced periodically to prevent clogging and maintain optimal filtration efficiency. Additionally, constant monitoring of the water quality is essential to identify any deviations or issues.
Conclusion
Industrial water filtration plays a crucial role in ensuring the quality and safety of water used in various industries. It not only protects equipment and maintains production efficiency but also ensures compliance with regulations and provides safe products for consumers. Understanding the different methods of filtration and implementing proper maintenance and monitoring practices are key to achieving effective industrial water filtration.
Got Questions? Let Us Help!
Welcome to WES Water! Since our beginning, we have serviced Arizona with high quality, water purification systems. With over 35 years of experience, we are the industry expert that you can count on to meet your water treatment needs. We provide water conditioning and purification solutions for residential, commercial and industrial applications. All of our water systems are designed to reduce water use, which makes them environmentally friendly and can reduce the cost. Most systems require little or no maintenance. We believe that everyone should have access to high-quality, alkaline water throughout their home. Give us a call today to receive your FREE information packet!
Categorised in: Industrial Water Filtration